Maintenance and Modernization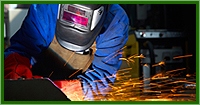 Maintenance and modernization is the company's division that develops rapidly and successfully. Our company provides the power and industrial plants' facilities with its best service. The Bełchatów Power Plant is the main as well as demanding consumer of our services. High quality of service and meeting deadlines of the executed projects cause that we are perceived as reliable business partner.
Additionally our services include:
» Static tension tests;
» Bending tests and impact resistance;
» Hardness measurement;
» Macro and micrometallography tests;
» Radiographic and gamma graphic tests and x-ray tests;
» Ultrasound tests of: welded joints; delamination and thickness;
» Magnetic and penetrative tests of materials and welded joints;
» Steeloscopy tests and endoscopy tests;
» Air/water tightness tests;
» Intercrystalline corrosion tests and tests for ferrite's content.